Hello and welcome aboard our Close To My Heart October 2015 Stamp of the Month Australasian Blog Hop. If you have arrived here from Georgia O'Shea
's Blog Georgia Creates CTMH
,
then you are in the right place. If you landed here by accident, no problem, please join in by following the link at the end of this post
.
The October Stamp Of The Month Twinkle is just perfect to start all those Christmas projects, well in advance of Christmas! Here is what you get - see those red outlines around some of the images? This means they have Cricut cuts to match, which saves a LOT of time fussy cutting if you want to use those images.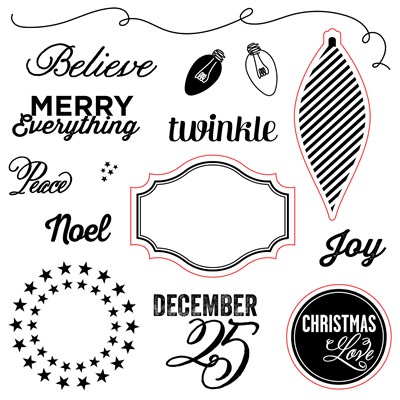 I have used the
Twinkle
stamps on this set of three Christmas cards. The basic layout came from an idea from Pinterest, but it is not playing nice and letting me source the original blog post - my apologies if it is yours. They really are difficult to photograph, not sure if you can see but on the two left hand cards the colonial white background has been embossed with two different
embossing folders
, one for the top and a different one for the bottom. Trust me, it looks really effective!
And the individual cards:
Merry Everything:
Twinkle:
And an extra close up of "Twinkle" just so you can see that beautiful
gold embossing
on the bauble. Another little trick I like to do when using baubles on cards is to trim a really thin strip of
shimmer trim
to give them something to hang on to.
And finally, I think my favourite, Peace:
I thought I was really clever here by cutting out a scallop circle on the Cricut then stamping the star circle on there, then punched out the centre to create a wreath. I am not sure if that was the intended use of the stamp (it probably was!!), but it made me feel very creative for a moment.
Here is a close up of the "wreath" that I am so proud of:
Thank you for visiting my Blog to check out my cards featuring Twinkle. I would love it if you could leave a comment below before you hop to the next stop on our Australasian Blog Hop
Vandra's Virtual CTMH Craftroom
for even more Twinkle inspiration.